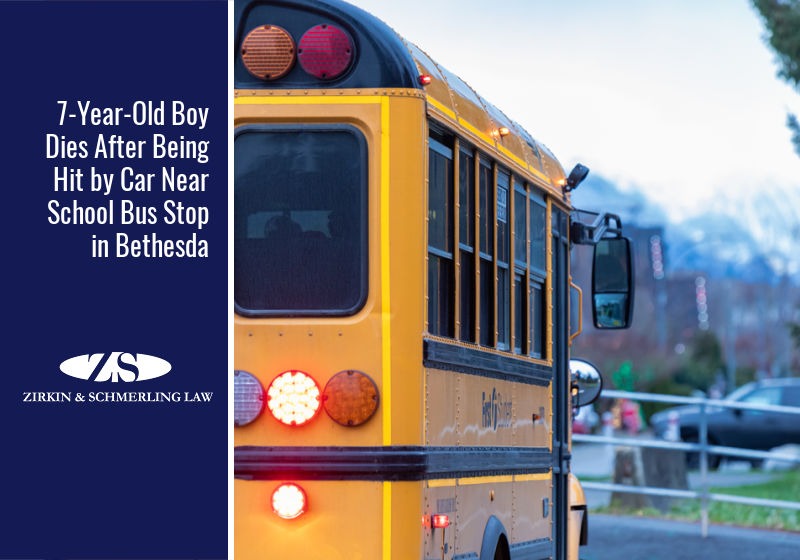 Bethesda, Maryland police have confirmed that on the morning of April 7th, a 7-year-old boy was struck by a car while waiting for the bus with his father and 18-month-old brother. The boy and his family were waiting on a Montgomery County school bus on the corner of King Charles Way and Grosvenor Lane when a gold Honda Accord traveling westbound on King Charles Way ran off of the road and struck them.
Witnesses said the driver was leaving a townhouse community when he jumped a curb and ran over plants before careening into the grassy area where children were waiting on the bus. The car then crossed Grosvenor Lane where it jumped another curb, hit a sign, and crashed into a bush.
The 7-year-old boy, Muhammed Elsyaf, suffered life-threatening injuries and his father suffered minor injuries. Both were transported to a local hospital by medics, where the boy was pronounced dead. The 18-month-old, who was in a stroller at the time, was unharmed.
It was unclear what caused the accident at the time, other than the driver stating that he lost control of the vehicle. The driver was not immediately charged.
Montgomery County police said its crash reconstruction unit was currently investigating.
Can Parents Sue For The Wrongful Death of Their Child in Maryland?
Few things can come close to the devastating pain of losing a child. There is no greater feeling of despair and anger, especially if your child's death was due to a driver's negligence. No amount of monetary compensation will make up for the loss of a child, but holding the responsible party accountable by seeking compensation through a wrongful death lawsuit may bring a feeling of justice.
Wrongful death claims arise from the same accidents that result in personal injury claims. Only, in these unfortunate situations, the injuries are fatal. Some of the reasons for which attorneys have filed wrongful death suits include:
Accidents involving automobiles and pedestrians
Accidents involving defective or dangerous products
Premises liability accidents, such as falls
Recreational accidents
No matter how careful a parent is to protect their child from harm, there are still so many dangers. Most parents teach their children to stay out of the road and be mindful of cars, but you cannot prevent every accident from happening. Distracted driving can cause a vehicle to careen onto a sidewalk or into a populated area even if there is only a momentary lapse in attention. Children are prone to running outside and playing, where they might not notice an oncoming vehicle if they accidentally venture into the street. Even if a child is wearing a helmet and other protective gear while riding a bicycle, if they are struck by a car the injuries they sustain can very well be fatal.
As is the case with other Maryland Pedestrian accident lawsuits, you are entitled to recover both economic and non-economic damages after the wrongful death of a child.
Contact an Attorney Right Away
No amount of money will ease the pain of losing a child. The devastation a parent feels is incomparable. It is our goal to help you through this time by holding the negligent party accountable for their actions. Not only may you feel a sense of relief by doing this, but the monetary compensation you receive can help you and your family move forward.
Losing a loved one is a devastating event in anyone's life, and here at Zirkin & Schmerling, we understand how difficult this time can be for family members of the deceased. We pride ourselves on working closely with our clients to ensure they receive the compensation they deserve in wrongful death lawsuits.
Contact us or call us at (410) 753-4611 to set up an appointment with one of our experienced accident lawyers today.