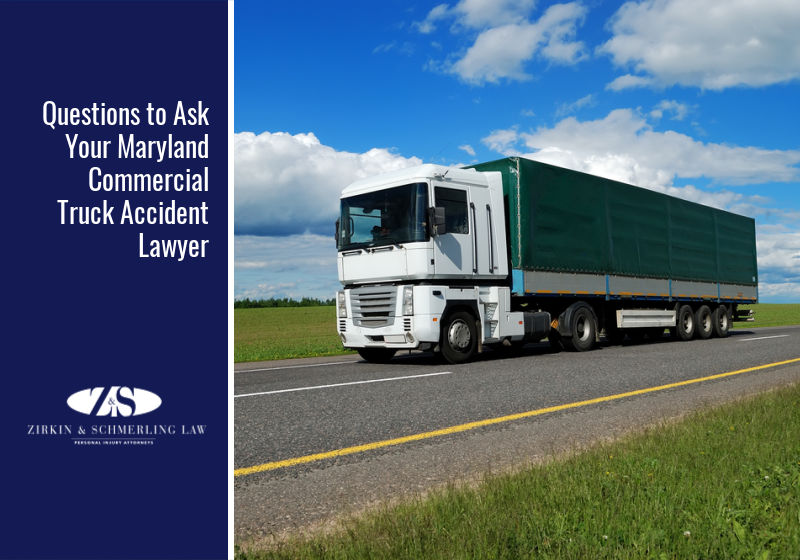 Commercial truck accidents are not the same as every other type of car accident, and they can be even more of a nightmare if you don't have a good lawyer handling your case.
To help you find the best, we've gathered this list of questions you should ask your Maryland commercial truck accident lawyer to ensure you've got the right person for the job.
1. What is your experience handling cases involving commercial truck accidents?
Ample experience is essential when handling commercial truck accident cases, as they are much more complicated than other types of car accident cases. Not only can large commercial truck accidents result in more severe damages and injuries, but going up against big trucking companies and their own team of lawyers and insurance agents is not easy.
So it's crucial that you ask this question upfront to get a good idea of how much experience the lawyer has handling cases similar to yours.
2. Do you have experience with commercial truck accident cases that go to court?
Not all personal injury lawyers have experience with litigation and actually trying a case in court. But it's important to ask this question because it is not uncommon for commercial truck accident cases to end up in court.
Some lawyers can negotiate a fair settlement for their clients without needing to take legal action. However, trucking companies or any other guilty party involved may fight hard to avoid having to pay out a high settlement, which means it may be necessary to take the case to court to file a lawsuit.
So, make sure you ask your lawyer about their litigation experience to ensure they would actually have the skills necessary to win your case if it goes to trial.
3. How is a commercial truck accident case different from a regular car accident case?
A commercial truck accident case should not be handled the same as a regular car accident case, as truck drivers and trucking companies have different rules and regulations they must abide by. So, it's important that your lawyer is familiar with FMCSA trucking regulations to ensure they can adequately handle your case and help you gather the necessary evidence to prove what happened.
For example, commercial truck drivers and their employers must abide by hours of service regulations, lane regulations, weight regulations, and cargo securement regulations. So your lawyer will need to be familiar with these laws so they can help you gather evidence to prove that the truck driver or another party was at fault for violating one or more of these regulations.
4. Who can be held liable for commercial truck accidents?
When dealing with commercial truck accidents, there can be multiple potentially liable parties. So it is also crucial that your lawyer has experience handling these cases, so they know who to file a claim or lawsuit against.
With regular car accidents, there can be multiple potentially liable parties as well, but those accidents are almost always caused by driver error. With commercial truck accidents, however, the truck driver is not necessarily the one to blame, and your lawyer should know this if they intend to help you win your case.
Potentially liable parties for commercial truck accidents can include:
The truck driver
The truck company
The owner of the truck
The leasing company
The cargo or shipping company
The truck manufacturer
The company responsible for the upkeep and maintenance of the truck
5. How much are commercial truck accident settlements?
The average cost of a commercial truck accident case can vary greatly. However, asking your lawyer this question can help you get a better idea of the experience they have.
If your lawyer seems hesitant and cannot give you a straight answer, it's likely because they don't have much experience winning commercial truck accident settlements for their clients. So while a good lawyer might not be able to give you an exact answer, they should be able to give you information that can help you get a better idea of how much money you could potentially win.
When they answer this question, they should be able to talk about the damages you can be compensated for and they should even be able to offer you examples of settlements they have won for previous commercial truck accident victims.
Such damages that you could be awarded money for include:
Medical bills
Lost wages
Disability or permanent impairment
Emotional distress
Property damage
Loss of consortium
Have a Legal Question? Our Commercial Truck Accident Lawyers Have the Answers.
Let our team of Maryland commercial truck accident lawyers at Zirkin & Schmerling help you during this trying time. We are here to answer your questions and offer you guidance.
If you choose to work with us, we will help you file your claim and handle the majority of the legal matters for you, we'll make sure the right party is held accountable, and we will ensure you are awarded the full and fair settlement you deserve.
Contact us or call us at 410-753-4611 to set up an appointment with one of our commercial truck accident lawyers today.