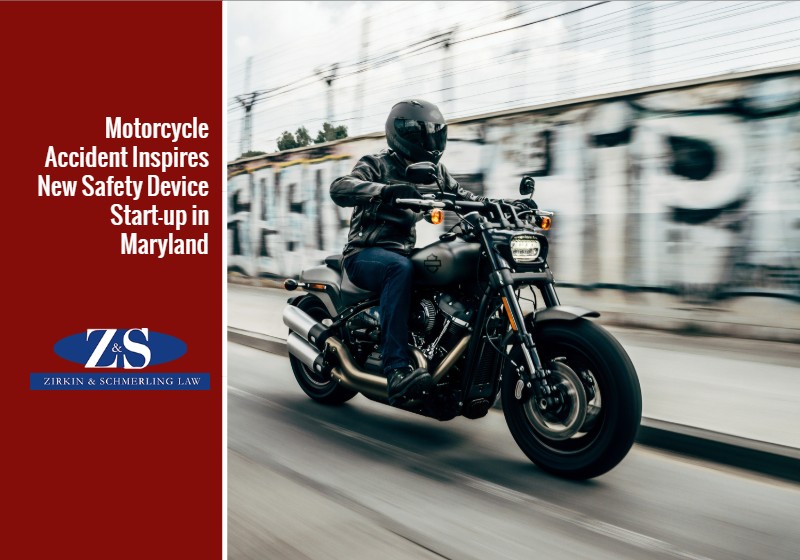 Most people who perish in Maryland motorcycle accidents are wearing helmets.
It's a startling fact we saw recently: 85% of Maryland motorcyclists involved in a crash are wearing a helmet at the time of the collision.
We also know even minor motorcycle accidents are very serious for motorcyclists because their bodies are so exposed to the impact. By the end of 2019, about 1,200 people will be injured in Maryland motorcycle accidents. Sixty-five to 75 of them will die from their injuries.
These stats tell us something important: Protective gear just isn't enough. After a motorcycle accident, every moment matters. Getting urgent help is the priority.
Maryland Motorcycle Accident Sparks Idea for Safety Device
Stunt man Kenny Kelley, who is a Maryland native, survived a motorcycle crash feeling thoroughly shaken by the experience. He was unable to reach his cell phone while lying injured on the side of I-95 and had to rely on strangers to call for help.
Afterward, Kenny not only recovered fully from his motorcycle crash injuries, the accident sparked in him an interesting entrepreneurial idea. He recently developed the Silent Beacon, a small device that a motorcyclist can wear close to their body and press for help. Even with limited mobility, you can trigger the device to connect to your cellphone and make an emergency call, including speaking aloud with 911.
The Silent Beacon is also becoming popular among drivers other than motorcyclists, including commuters and travelers who are especially concerned about getting help in a crisis on the road. It can be used as a keychain, worn as a necklace or bracelet, or attached to a purse or belt loop.
Motorcyclists in Baltimore may be enjoying their last rides of the season, although recent accidents show the danger of Maryland roads – no matter the weather.
Our roads are extremely dangerous for motorcyclists. We have winding roadways with all kinds of hazards popping up along the way: construction zones, leaf and grass debris, loose rocks, ice, snow, fog and crumbling road asphalt that can easily cause a motorcycle to slide.
In Baltimore and Cecil counties, a high number of motorcycle fatalities recently spurred a police investigation into the causes. In late spring, on one day, within a matter of hours from one another, three people died in motorcycle accidents: Sidney Green of Windsor Mill and John Smith and Brittny Winter, who were visiting from Pennsylvania.
Two days later on the Arundel Expressway, Jack Vance of Glen Burnie died while making a lane change. We'd like to point out that the news report noted Mr. Vance was traveling at minimal speed and wearing a helmet at the time of the collision.
Then in late summer, motorcyclist Jared Stewart slid across a grass median in Prince George's County and crashed into two other motorcyclists who were stopped on the shoulder of an off-ramp. Mr. Stewart died, and the other two motorcyclists were lucky enough to survive the collision.
In addition to road conditions, speed, terrain and traffic jams contributors to Maryland motorcycle accidents.
Police and highway safety investigators are studying why Maryland roads are so prone to these kinds of motorcycle accidents. Many of our busiest roads are above the national average for crashes. And certain highways, like the Jones Falls Expressway, are double Maryland's average for crashes.
Aggressive driving and speeding are contributors. Baltimore is frequently ranked by insurance companies as having the worst drivers in America. Research also indicates that Maryland roads have a dangerous combination of horizontal and vertical curves, varying speed limits, dense traffic patterns and other inherent risks for motorcyclists.
Zirkin & Schmerling's Road Safety Tips for Maryland Motorcyclists
With all of this in mind, we'd like to share some motorcycle safety tips that will help you enjoy Maryland's beautiful roads while staying safe during the ride.
Consider Maryland's landscape. Before passing other vehicles or accelerating around a turn, take a moment to think it over. Maryland's natural geography, with curving hills and coastlines, poses extra hazards for motorcyclists.
Follow advisory speed limits. While the speed limit on our highways is usually 55 to 70 mph, the Maryland Department of Transportation posts lower advisory speed limits drivers should follow in areas with poor sightlines, during bad weather and in heavy traffic.
Watch road conditions. Ice, sleet and snow create extra risks for motorcyclists. Remember, though: the warmer months bring their own set of hazards: grass debris, blowing leaves and road construction among them.


Wear protective gear. Improve the odds of protecting your head and body during a collision. Always wear a helmet and body protective gear.
Try safety devices/apps. Explore cutting-edge new safety devices and apps that add another layer of protection in an emergency situation. One of them could save your life.
Have a Legal Question About Motorcycle Accidents In Baltimore? We Have Answers.
If you have been in a motorcycle accident, the attorneys at Zirkin and Schmerling Law are experts at answering all your questions and guiding you through the challenging process of Maryland motorcycle accident law. We can help you hold the right person responsible for your injuries and file suit for damages. Contact us or call us at 410-753-4611 to set up an appointment with one of ourmotorcycle accident attorneys today.