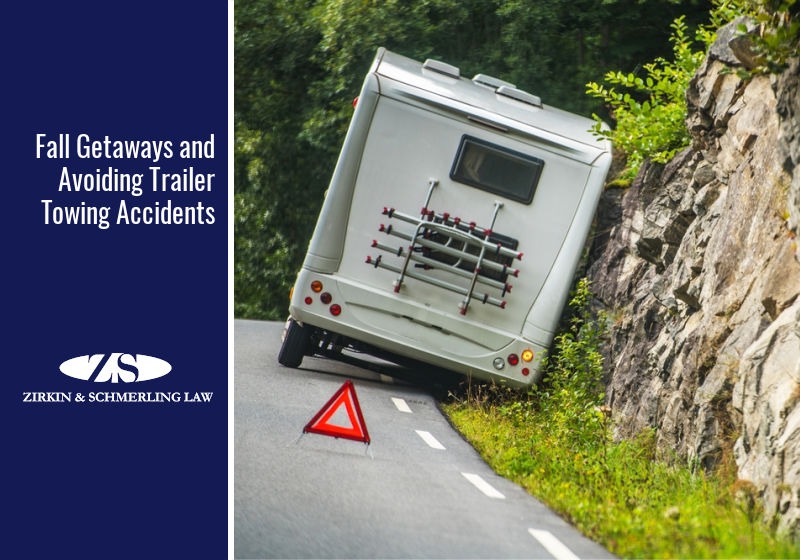 Hitting the road with your trailer this fall? There's nothing else quite like taking an autumn road trip and seeing the scenic sights while your trailer tags along behind you.
But a trailer crash that could derail your trip. Trailer accidents are surprisingly common and can cause severe auto damage and bodily injury.
No Matter Where You Go, Tow Safely
There are many different types of trailers you can tow legally and safely on our nation's roads. It's common for people to tow:
Lightweight campers and pop-up tents
Full-size camper trailers
Personal watercraft like jet-skis
Horse trailers and other animal trailers
Kayak and canoe trailers
Motorcycle trailers
Small pull-behind trailers
Rented luggage trailers
Before hooking up a trailer to your vehicle, check your auto manual to see the vehicle's towing capacity. A little hatchback probably doesn't have the power to tow a big trailer. A small SUV or compact pickup truck typically has a towing capacity of 3,500 to 7,000 pounds and can handle mid-size trailers at maximum.
To tow something that's 10,000 pounds or more, like a full-size camper or RV trailer, you'll need a heavy-duty truck with a strong hitch made for hauling. Some large pickups are designed to handle 30,000 pounds or more.
Don't Tow Without the Proper Equipment
You'll also need to double-check you have all the right towing gear. The 5 main components of a safe towing setup are:
A trailer hitch
A ball mount
A pin and clip
A hitch ball
A wiring harness
Ensure the trailer can hook into your car's lighting system so you'll have functional brake and backup lights. If you'll have anything protruding from the trailer, you may need a red flag and/or warning sign to ensure other drivers are aware of what you're towing.
Know the Towing Laws for Every State in Your Trip
Each state has its own towing laws, so make sure you plan ahead if you're heading out on a multi-state road trip. For example, Maryland allows vehicles with trailers to travel at the same speed as other passenger vehicles but some states require a slower traveling speed.
Keep these Maryland towing rules in mind:
If your view from the inside will be obstructed by the trailer in the back, you must have two functional and clear side view mirrors.
Maryland has certain weight restrictions by the class of the vehicle and the trailer must have a specific lighting setup depending on its type and age.
The trailer should be equipped with a tow bar, safety chains or cables, a parking brake, and if it is over 10,000 pounds, it must have brakes on all wheels.
Your total travel length, including the trailer, can't exceed 55 feet including bumpers. It can't be wider than 102 inches or higher than 13 feet 6 inches.
No person is allowed to ride in a trailer or mobile home while it is being towed on a highway.
As you drive, beware of tight turns and curves that are hard to maneuver with a trailer. Avoid small parking lots and areas where the total length of your vehicle could pose a hazard for nearby motorists and pedestrians.
Adding a trailer to your vehicle can create visibility and maneuverability problems you may not realize until you're already on the road. When you're backing up, steering wheel turns are tricky and counterintuitive for many untrained drivers.
Trailers are also notorious for adding "trailer sway" to your vehicle's movement, meaning any slight swerve or strong wind could cause your entire setup to swing out of control. This puts you at risk of zooming off the road or hitting another vehicle, creating a catastrophic accident.
After an Accident, Act With Caution and Contact a Lawyer
If you're in a towing-related accident – whether you're the one towing a trailer or the one hit by it – talk to an attorney before agreeing to an insurance settlement or signing any documents. You may be partially, fully, or not at all at fault for what happened.
At Zirkin & Schmerling Law, we'll help you sort through the complexities of a towing accident, including clarifying which insurance companies will be involved and helping you understand how you can seek compensation. If you or your loved ones have injuries, we can help you get the medical treatment you need and get your bills paid.
Nobody wants a lovely autumn trip to turn into a disaster, but if your road trip goes sideways during a trailer towing accident, we're here to help. Connect with the talented team at Zirkin & Schmerling Law to talk about your options.
Have a Legal Question? We Have Answers
When you need to learn more about your rights, the attorneys at Zirkin & Schmerling Law can help. Contact us or call us at (410) 753-4611 to set up an appointment with one of our experienced car accident lawyers today.