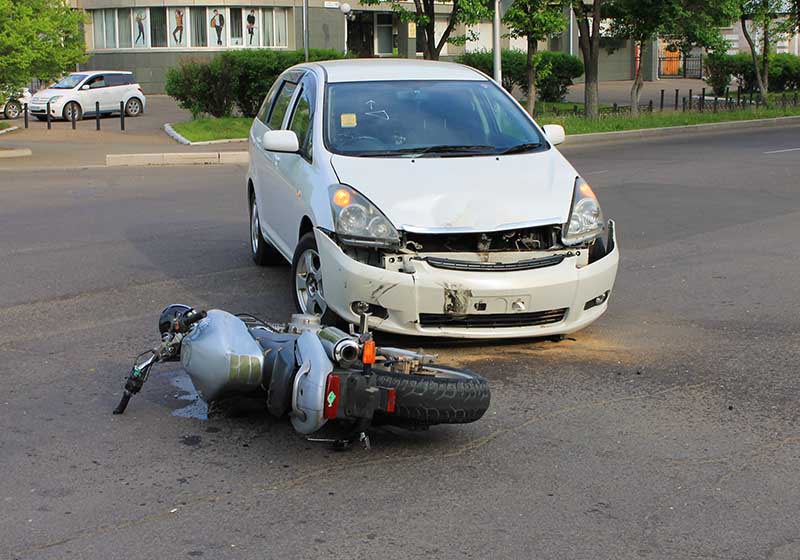 Zirkin and Schmerling is a leader in Maryland in auto accident law and can help you obtain the money you deserve. Never assume you don't have a case, no matter how minor the damage may seem. A minor accident can still result in significant long-term health problems for you.
Building Your Case
You can still pursue an auto accident lawsuit even if the damage to your motorcycle is minor. Repair bills for auto accidents are expensive, and your bills will only increase if you were injured in the accident. The first steps you need to take when building your case is to establish the facts. Make a list of everything that happened and document all of the details. You will want to have the answers to the following questions:
Helmet or no helmet? You have to wear a helmet in Maryland. If you are involved in an accident and didn't have a helmet on, insurance companies will try and shift the blame on you by arguing the injuries could have been prevented.
Were you wearing other protective gear? Clothing accessories like kevlar gloves, jackets, and pants provide you with additional protection. While it isn't the law to wear this equipment, it's important to establish how your potential injuries occurred.
Did you have a valid motorcycle license? Motorcycles require specialized licenses to operate. Failing to have a valid motorcycle license will reduce your chances of success in a lawsuit.
Did you maintain your motorcycle? Keep track of any maintenance receipts you have. You want to show that you properly maintained your bike and that the accident itself caused damage to you or your bike.
How did the accident occur? Write down a detailed account of how the accident occurred. Include specific times, actions, and anything that will help you establish credibility. If you called the police, most of this information has been documented in their official report. In the case that you only exchanged information with the other driver, you may need to file a police report after the fact.
Did you take photos? Even the smallest scrapes and scratches can lead to large repair bills. It's always best to take photos of the accident, but sometimes you may forget in the heat of the moment.
If you feel like you need some legal help, contact our Motorcycle Accident Law attorney to schedule a free case evaluation today.
FREE CASE EVALUATION
If you are planning a minor damage lawsuit, you will need to report the damage to your insurance company. This will establish a paper trail for any case that you may pursue. The next thing you need to do is determine the extent of your bodily injuries. You often won't feel your injuries until the next day. It takes your body time to start the healing process, and for swelling and bruising to set in. If you suspect that you are injured, you should visit a doctor immediately. Not only will this help you identify potential injuries, but it provides you with the evidence needed to build a minor damage lawsuit. Here are a few examples of common motorcycle injuries to look out for:
Road rash
Head trauma
Head trauma
Second and third-degree burns
Fractures
Internal injuries
Soft tissue damage
What A Winning Case Looks Like
In order to build a winning case, you need to establish the facts. Any insurance companies or lawyers you deal with are going to ask you about:
Liability
Negligence
Damages
Direct and proximate cause
Duty of care
A successful case will show that the other party failed to look for you properly, violated traffic laws, and failed to use all reasonable means available to avoid the accident. If you can establish that you are notat fault, you may have a strong case.
Zirkin and Schmerling Law – We Can Help with Your Minor Accident Lawsuits
Whether you are injured, or your motorcycle is damaged, you just want your life to get back to normal. Zirkin and Schmerling Law is here to help you make sense of traffic laws so you can receive the compensation you deserve. Contact us today at 410-753-4611 to schedule your free, no obligation consultation. We will explain all of your options and help you determine if you have a legitimate case.