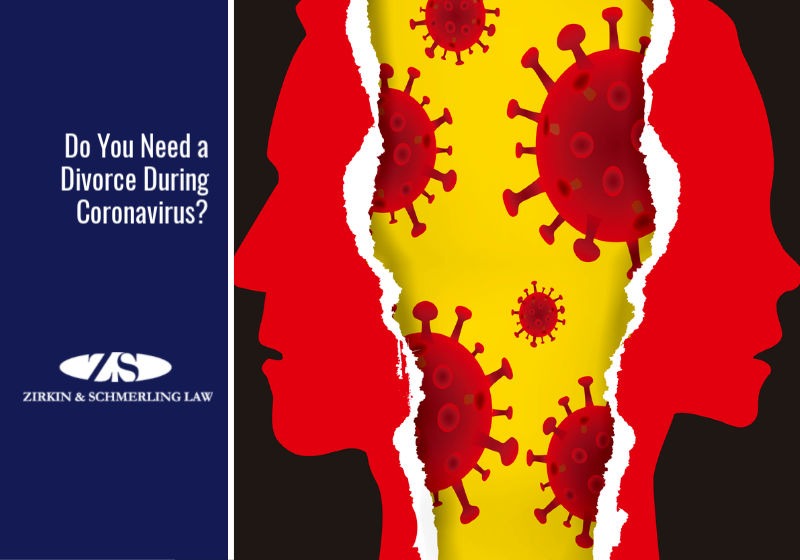 People are stuck inside their homes during the coronavirus pandemic, causing long-standing friction to come to a boiling point. Anger and arguments are arising in some families – sometimes escalating to the point of violence.
Soon after the pandemic hit, there was a sharp rise in domestic violence reports. Children and spouses are at a higher risk of physical, verbal, and emotional abuse when they're locked down with their abuser.
Even when there is no abuse present, some couples find that they can no longer tolerate living together. Is the pandemic is highlighting the irreconcilable differences between you and your spouse?
Yes, You Can Get a Divorce During the Pandemic
You shouldn't have to tolerate an unsafe or upsetting living situation. Maybe your spouse refuses to follow public health guidelines and is putting your health at risk. Maybe they're screaming and yelling at you, day after day. Maybe they're frenetically cleaning every square inch of the house and you can't live with someone who is so paranoid about the pandemic.
If you've reached the point of no return and are ready for a divorce, don't let COVID-19 stop you. It's still possible to get a divorce during coronavirus.
How Will My Lawyer Work With Me on a Divorce During Coronavirus?
A family lawyer can assist you while observing the safe physical distancing recommendations from the CDC. Ask about a phone consultation and how you can exchange the necessary documentation with minimal contact.
Here in Maryland, you can initiate an absolute divorce even while you're still living with your soon-to-be-ex-spouse. Contact a divorce/family lawyer and ask about drafting a document called a marital settlement agreement. This will determine all issues of custody, child support, and property between you and your ex.
Each spouse has the right to their own attorney and each side will have a chance to review the draft of the marital settlement agreement. In fact, you can actually draft the document by working on it together if desired, but each of you should have your own attorney review it.
After the document is signed and notarized, your attorney can file for the absolute divorce on the basis of mutual consent by attaching the marital settlement agreement to the complaint. There is no necessary separation period required for a mutual consent divorce, so your case will go on the court's docket as soon as the next court date is available.
What if My Spouse Refuses to Divorce Me Right Now?
Even if your spouse resists the divorce, now's the time to contact a lawyer and get the process rolling. You could pursue a separation agreement to live apart, even if you are not able to physically separate immediately.
Under the law, you may have grounds for a limited divorce like "cruelty of treatment" or "excessively vicious conduct" by your spouse. If they have been abusive toward you or your children, act quickly by contacting the authorities and a lawyer. You may need an urgent protective order.
One last word of caution: Never rely on your spouse's lawyer to advise you during any disagreement, separation, or divorce. Their role is to look out for your spouse, not you. Protect your rights!
Get your own lawyer who will have your best interests at heart. Start the legal process of separation or divorce for your own mental, emotional, and physical well-being. Particularly during a pandemic, you deserve to have a safe and peaceful place to live.
Have a Legal Question About a Divorce During Coronavirus? We Have Answers
If you need to get a divorce during coronavirus, the attorneys at Zirkin and Schmerling Law can help. Contact us or call us at 410-753-4611 to set up an appointment with one of our family law and divorce attorneys today.