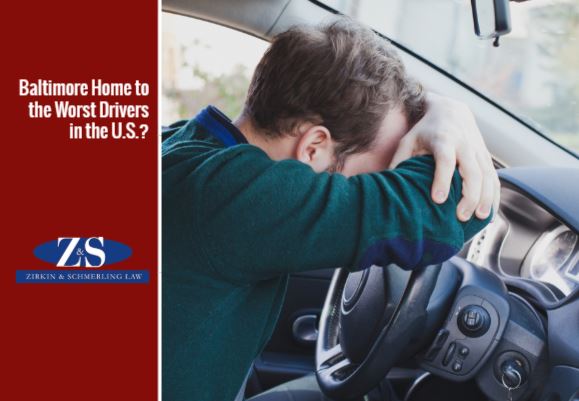 We read recently that the city of Baltimore is the 200th safest driving city among the most populous cities in America.
At first glance, this may not seem like bad news for Maryland's largest city and economic hub; perhaps middle of the road among cities, so to speak? Except Baltimore is ranked dead last, so we could be home to the worst drivers in the United States. Our neighbors 36 miles to the southwest, Washington, D.C., are just ahead of us at 199.
Allstate America's Best Drivers Report 2019 Results
Interestingly, Allstate's auto insurance policies represent about 10% of all U.S. auto policies, which apparently qualifies this annual report as "a realistic snapshot of what's happening on America's roadways." The company examines auto claims data and determines the likelihood that drivers in each city will experience a vehicle collision compared to the national average. In Baltimore, we go an average of 4.2 years between crashes, less than half the national average of 10.57 years. In this case Baltimore doesn't have the worst drivers.
The insurance industry at large also finds that hard braking could be the best predictor of crashes and their frequency. Sometimes referred to as lead foot syndrome, hard braking uses more force than normal to stop a vehicle safely. Allstate finds Baltimore drivers have an average of 30.6 hard braking events for every 1,000 miles driven, far exceeding the national average of 19.
Looks like Baltimore doesn't have the worst drivers but we've got some work to do to increase awareness of the importance of being safe and attentive behind the wheel.
Here's a start … although we doubt this is news to drivers in the Baltimore area. Allstate's report identifies Interstate 695 and Interstate 295 as "risky roads" where collisions are most common. It's safe to say Baltimore drivers should always be attentive and practice safe driving when traveling them.
Extra Driving Vigilance Required On Holidays
Although we really have to watch ourselves on the roads of Baltimore on any given day, it's also safe to say this is especially true on holidays. During a recent summer three-day holiday weekend, Maryland State Police reported 5,754 calls for service and troopers made 6,363 traffic stops resulting in 107 DUI arrests, 1,201 speeding tickets, 203 seat belt citations, more than 3,000 other citations and 4,000 warnings. 

Illegal Racing Is Just That: Illegal
Illegal bike and drag racing are known to cause speed-related deaths, especially along Interstate 70. Last summer, police issued close to 100 citations on I-70 in a single weekend, yet the illegal activity continues. Nineteen-year-old motorcyclist Dustin Curtis lost his life as a result of a crash during an impromptu bike race on I-70 near Frederick. Along I-795, Kennedy Sooklal of Reisterstown was struck and killed while changing a tire at the side of the road by a vehicle involved in a speed contest. The driver, Daniel Gonzales-Rabines was arrested at the scene.
Highways are not designed as raceways, people. Do not go there.
Know the Rules About Stopping for a School Bus
With school about resume this fall, it's a good idea to refresh our memories when it comes to sharing the roads with school busses. Accidents do happen, whether it's a driver's fault or not.
Last spring, an eight-year-old girl was struck by a car while attempting to board a school bus one morning in Laurel, Maryland. If a median divides the highway -as it does in the case of this accident- a driver approaching a school bus from the opposite direction is not required to stop. Police called this accident a case of pedestrian error.
Although no school systems in the greater Baltimore area have buses equipped with cameras on the outside, several counties have filed for legislation to install them, because the video could be helpful in cases like these.
Hauling Safety
A reported multi-vehicle crash on the Tydings Bridge of NB I-95 caused a few non-life threatening injuries and one scare for the driver who was transporting a DeLorean, the car made famous by the Back to the Future series of films in the 1980s. The cause of the accident was unclear, although extra safety precaution is always required when pulling a trailer.
Have a Legal Question About Driving Accidents in Baltimore? We Have Answers.
If you or a loved one are injured in a Baltimore auto accident, Zirkin & Schmerling Law is an expert at answering all your questions and guiding you through the challenging process of Maryland auto accident law. We will review your case, assess the strength of your insurance claim and advise you on the best path forward. Contact us or call us at 410-356-4455 to set up an appointment with one of our auto accident attorneys today.