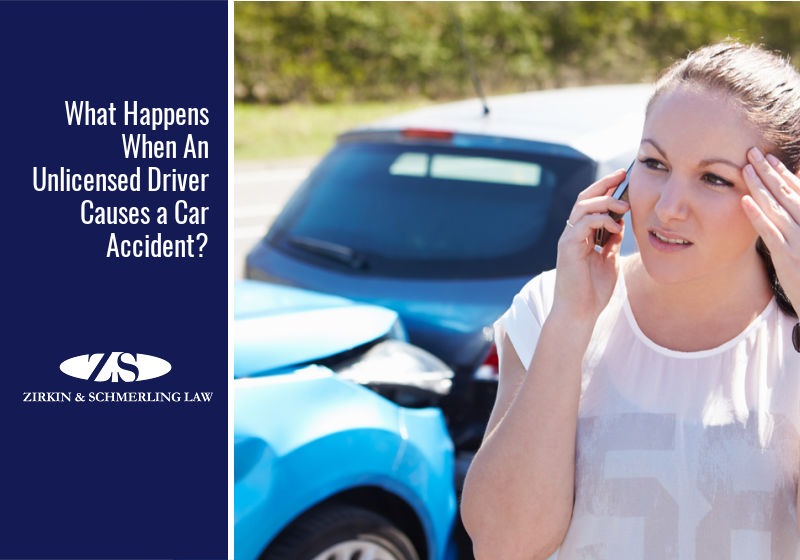 Maryland is an at-fault state, which means it follows a traditional fault system. If you are hit by a driver, and they are responsible for causing the accident, you can hold them liable. But what happens if the driver who hit you was driving without a license?
An unlicensed driver can still be held responsible for causing a car accident in Maryland, of course, but the trouble with unlicensed drivers is that they are also often uninsured. And if the at-fault driver is uninsured, it can make it more difficult to recover compensation from them or their insurance company to help pay for your damages.
If you are involved in a car accident with an unlicensed driver, it is crucial that you work with an experienced local attorney who fully understands Maryland law. At Zirkin & Schmerling, we have years of experience handling a wide range of car accident cases, including those with unlicensed and uninsured drivers. Our attorneys know what it takes to hold the guilty party liable and ensure our clients get the full settlement they deserve.
Accidents with Unlicensed Drivers in Maryland
According to Maryland code 16-101, drivers must be licensed when operating a motor vehicle. If the driver is not licensed, they may face fines and even a potential jail sentence. A first offense, for example, can result in a prison sentence of up to 60 days or a fine of up to $500. A second or subsequent offense can result in up to a year in jail.
However, despite this strict law, thousands, even millions of people drive every year without a license. But not all of these individuals drive unlicensed for the same reasons. Unlicensed drivers can include:
People who have never been licensed, such as teenagers
Elderly adults who have failed their driving renewal exam
People who have had their license revoked due to a DUI, criminal offenses, or too many moving violations
People who have had their license suspended for lack of insurance
Those who have just moved to the country or a new state and have not yet had the chance to secure a new driver's license
No matter the reason, driving without a license is illegal. However, if you are involved in an accident with an unlicensed driver, this does not automatically mean they are at fault and responsible for paying your damages. They will likely be fined or sentenced to a short-term in prison, but you will still have to prove they were the one that caused the accident, such as by speeding, running a red light, improper lane changing, etc.
This is why it is important that you consult with an attorney after the accident. Even if the other driver is guilty of driving without a license, it doesn't mean they are obviously guilty of causing the accident. Thus, you will need to work with an attorney to gather sufficient evidence to hold them accountable.
What If the Unlicensed Driver Who Hit You Is Also Uninsured?
As mentioned above, many unlicensed drivers are also uninsured, and that can cause a problem. As Maryland is an at-fault state, you must file a claim against the guilty driver's insurance to receive compensation. So if that driver doesn't have insurance, you will have a harder time getting the settlement you need.
Maryland does require drivers to carry uninsured motorist coverage, so if the unlicensed driver is also uninsured, you can recover damages through your own insurance. Currently, minimum uninsured motorist coverage in Maryland is:
$30,000 for bodily injury per person
$60,000 for total bodily injury per accident
$15,000 for property damage per accident
These amounts, however, while seemingly large, are often not enough to cover all expenses related to car accident claims. Medical bills from injuries, property damage repair, lost income from missing work, and other accident expenses can add up quickly. So if the at-fault driver is uninsured and your own insurance coverage is not enough, you may need to file a personal injury lawsuit against the driver to recover further compensation.
Filing a lawsuit is also not easy, however. Filing a personal injury claim with an insurance company can be challenging enough, but filing a lawsuit can take even more time and effort. Again, if you need to go this route, you will need to work with an attorney to ensure your rights are protected and the guilty party is held fully accountable for their actions.
Have a Legal Question? We Have Answers.
If you are hit by an unlicensed driver, our team can help. At Zirkin and Schmerling Law, our Maryland personal injury lawyers understand the hassle of dealing with an unlicensed and potentially uninsured motorist. We are dedicated to providing superior service to our clients to ensure they get the compensation they deserve.
Contact us or call us at 410-753-4611 to set up an appointment with one of our personal injury attorneys today.