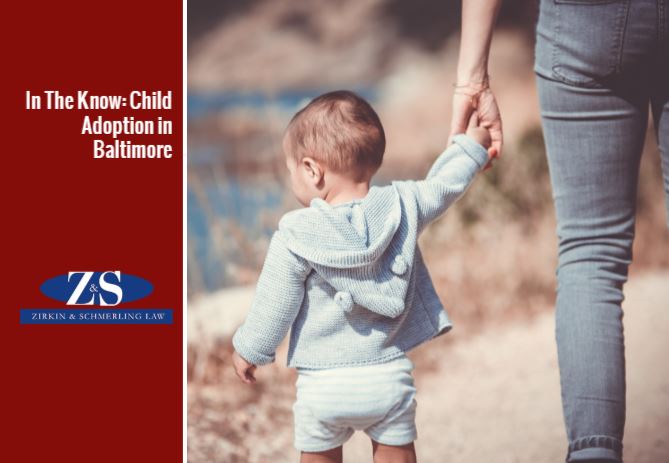 Adopting a child in Baltimore is a thoughtful decision that's carefully planned.
We often consider adoption as a way to start a family after a desire to parent a child goes unfulfilled – such as infertility or to defy the biological clock. Other times, we adopt out of a sense of duty to a child in need. Sometimes we turn to learning about adoption as a way to protect our biological children in the event something happens to us. It can be an emotional time, one filled with searching for the right answers.
Regardless of the emotion involved, Maryland's process for adopting a child is governed by laws and requirements that must be factored into our decision. That's why it's beneficial to consult a Baltimore family law attorney if considering adoption.
To become an adoptive parent in Maryland, you must:
be at least 18 years of age
provide medical records to prove physical and emotional health are not hazardous to the child or impair the ability to parent a child
have a stable relationship if married, for a "reasonable amount of time to adjust to each other"
have sufficient physical and emotional ability to take sole responsibility for the child, if single
have sufficient income to care for the child and any other dependent family members
have adequate living space to meet the child's needs
complete 27 hours of preservice training
A potential adoptive parent has more than five types of adoptions to choose from.
Agency Adoptions – the placement of a child with adoptive parents by a public agency, or by a private agency licensed or regulated by the state.
Independent or Private Adoptions – no agency is involved in the placement of a child; either a direct arrangement between the birth parents and the adoptive parents, or an intermediary makes the arrangement, such as a clergyperson or a doctor. Whether or not an intermediary is involved, the adopting parents usually hire an attorney to take care of the court paperwork.
Open Adoptions – a private adoption where the adopting parents and birth parents have contact during the adoption process. The new parents agree to maintain some contact with the birth parents after the adoption, through letters, photos or in-person visits.
Identified or Designated Adoptions – the adopting parents and the birth mother find each other and then ask an adoption agency to take over the rest of the adoption process.
International Adoptions – the new parents adopt a child who is a citizen of a foreign country.
Same-Sex Adoptions – same-sex couples may adopt children together and one partner may adopt the child of the other partner.
Kinship Adoptions – a member of the child's family steps forward to adopt, often grandparents and sometimes aunts or uncles, etc.
Adult Adoptions – one adult adopts another. A 10-year age difference between the adults is required. Both parties must show why the adoption is in their best interests as well as the public good.

Consent is the common denominator
For any adoption to be legal, the birth parents must consent to permanently end their parental rights.
In Maryland, any child who is 10 years or older must also consent to adoption. If the birth parents have lost their parental rights, an agency with guardianship or the director of the Department of Social Services if they have custody must give consent.
A birth parent gives consent to legal adoption after the child's birth. A valid consent is given in their native language and must be given before a judge if not English, with a translator affidavit. The consenter names the child and identifies the adoptive parents. A birth parent can revoke their consent within 30 days after signing or 30 days after the adoption petition has been filed. After 30 days, consent is irrevocable.
Parental consent is not necessary for Maryland adoptions if the court find evidence that a parent:
subjected the child to severe mental, physical or sexual abuse
lost parental rights to the child's siblings
has been convicted of abuse of their children
has not had custody of the child for at least one year
failed to contribute to the child's physical care and support
did not maintain contact with the child while they were in the care of the potential parent
Before adopting a child, every potential adoptive parent must pass the critical home study.
A home study conducted by a licensed social worker or another state agent evaluates the adoptive family to make sure the adoption is in the child's best interest. A home study in Maryland may include the following:
At least four home interviews and individual interviews with each resident of the home
At least three references for the family
Passing a criminal background check
Passing a child and protective services clearance A sanitary home approval
A fire safety approval
Proof of income, financial stability
Proof of mental and physical ability to care for the child
The entire process should be completed in 90 days.
An adoption is not final until the court approves it
The adoptive parents must submit a petition for adoption with the court, provide notice of the hearing to anyone legally involved in the child's life, pay the filing fees and participate in hearing process in court, before a judge.
Have a Legal Question About Adoption in Baltimore? We Have Answers.
If you or a loved one want to start or expand a family through child adoption, the attorneys at Zirkin and Schmerling Law are experts at answering all your questions and guiding you through this extensive and complex process. Contact us or call us at 410-753-4611 to set up an appointment with one of our family law attorneys today.g