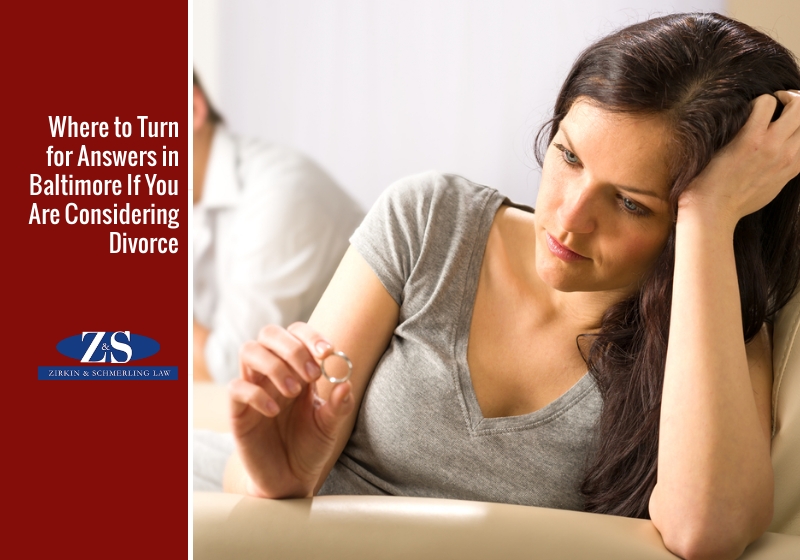 You and your spouse find yourselves at the end of your journey together. It's difficult to arrive at this decision for any couple. You have a lot of questions, of course. If you live in Baltimore, where can you turn for answers?
The Family Division of the Circuit Court for Baltimore City, Maryland hears cases of divorce, custody and child support with a goal of finding effective, efficient resolutions to these domestic disputes.
"The Court strives to facilitate the examination and evaluation of family conflicts in a manner that promotes the dignity and respect of the families involved," writes the Honorable Kendra Ausby, current Judge In Charge of the Family Division, in the court's message to the community. "We endeavor to construct remedies that comply with applicable law and effectively address the safety, stability, integrity and accountability of the parties and children."
To this end, the Family Division provides court-funded and community resources that can not only assist you as you navigate this challenging life change, many of the tools can guide you to amicable solutions without court involvement.
Areas of Family Law
Family law covers many areas relating to your family. These areas include:
Adoption
Child Custody
Child Support
Divorce
Domestic Violence
Marriage
Name Change
In the city of Baltimore, all family law matters are filed with the circuit court, except for domestic violence issues, which can be filed in either the circuit court or district court.
Visiting Baltimore City's Family Division
Baltimore City's Family Division is located in Room 109 Courthouse East, 111 North Calvert Street, Baltimore, MD 21202. This place is also known as the old Post Office building. You can contact the Family Division by phone at 1-410-333-3709.
The Family Division consists of several departments pertaining to family law, including Guardianships and Trusts, Paternity and Domestic and Child Support. All are dedicated to providing services to the community with integrity, sensitivity and timeliness.

Parenting Education and Mediation Services
Good examples of the many services provided by the Family Division are Parenting Education and Mediation Services. These services include:

Co-Parenting Education – When there is a conflict regarding custody or visitation, these classes can assist in making the transition as seamless as possible through parent education. Two classes are available: Co-Parenting Education (COPE) is for parents who are divorcing and Shared Parenting Education (SHAPE) offers specialized education for parents who were never married.
Children's Classes – Designed to help children ages six to 15 to see that their family is not the only one dealing with separation and divorce. Classes teach coping techniques, ways to identify the feelings children may have about their family dynamics and conflict resolution.
Mediation – Mediation attempts to help couples avoid the nastiness of litigation. In cases where no allegations of child abuse or domestic violence are present, mediation allows both parties to resolve conflicts on their own in a controlled atmosphere.
Family Division of the Circuit Court for Baltimore County
In addition to the resources provided by the Family Division of the Circuit Court for Baltimore City, families who live in the greater Baltimore area are also served by the Baltimore County Family Division, located at the County Courts Building, Room 515, 401 Bosley Avenue, Towson, Maryland 21204, which offers the following:
Baltimore County Office of Child Support – This office provides legal establishment of the support obligation, enforces existing court orders (both civil and criminal contempt citations), and collects and applies child support payments.
Collaborative Law – This office is a new dispute resolution model where both parties agree to retain specially-trained mediation lawyers to resolve issues in an honest, respectful way and solve problems with good faith.
Cooperative Co-Education Classes/Office of Family Mediation – This office provides free classes to parents undergoing separation and divorce. The classes teach parents how to focus on their children's needs during this process.
Family Law Hotline – This hotline focuses on providing information to people regarding separation, child custody, child support and domestic violence. The hotline operates on Tuesdays from 9:30 a.m. to 4:30 p.m. and the number is 1-800-845-8550.
Lawyer Referral Service – This service is provided by the Baltimore County Bar Association. Consultations are intended to determine if you need further legal assistance and, if so, connect you with an experienced attorney.
Legal Aid Bureau – This monthly class is for those who have been separated for at least two years and have no child support, property or alimony issues.
Legal Forms Outline – This hotline, provided by The Family Law Center, assists people in understanding the legal process and determining if you should represent yourself in a family law case.
Maryland Volunteer Lawyers Service, Inc. – This service can refer you to attorneys who operate on a pro bono (no cost) basis for individuals with low or moderate income.
Peoples' Law Library of Maryland – This is a free service where you can find information and legal forms. Visit Peoples' Law for more information.
Protection Order Advocacy and Representation Project (POARP) – This office provides a staff of lawyers to assist you with domestic violence issues.
Have a Legal Question About Family Law in Baltimore? We Have Answers.
If you are considering divorce – mutual consent or otherwise- the attorneys at Zirkin and Schmerling Law are experts at answering all your questions and guiding you through this challenging time in your life. We will protect your interests, work with you on child custody and support and division of property and build a solid case. Contact us or call us at 410-356-4455 to set up an appointment with one of our family law attorneys today.
graphics pulls
2.5 Divorce rate in Maryland per every 1,000 people (2017)